Plastic Pipe and Hose Cutters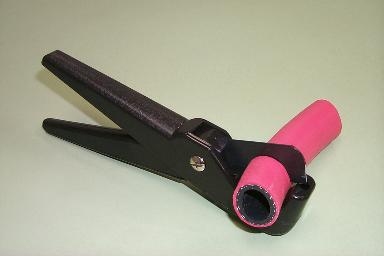 Part Numbers 
WCT 100 – WCT 135 – WCSS 200
Model WCT 100 – Cuts hose through 1 inch diameter
Small cutter – cuts P.E., P.B. & PVC (Class and Schedule 40)
Model WCT 135 – Cuts Hose through 1-1/2 inch diameter
Large cutter – cuts P.E. & hose through 1-1/2″ I.D.. Class PVC & P.B. Through 1-1/4″ I.D.
Model WCSS 200 – Cuts hose through 2 inch diameter
Largest cutter – cuts hose through 2″ I.D., P.E. through 1-1/2″ & Class PVC through 1-1/4″ I.D. (Comes standard with Stainless Steel Blade)
INSTRUCTIONS 
Plastic Pipe:
Place cutter on pipe as illustrated.
Lightly squeeze and rotate cutter. Rotate cutter up and down.
Cut slowly at end of cut.
Rubber hose or soft tubing:
Place cutter on hose as illustrated.
Squeeze handles. (Slight rotation might be needed to start the cut.)
Precautions:
Do not cut metal or anything harder than plastic.
Do not twist or pull handles parallel to the pipe.
Avoid squeezing hard (Especially in cold weather) – Do not snap cut PVC – cut slowly at the end of the cut while rotating the cutter.
Caution: Blade is very sharp. Keep away from children.